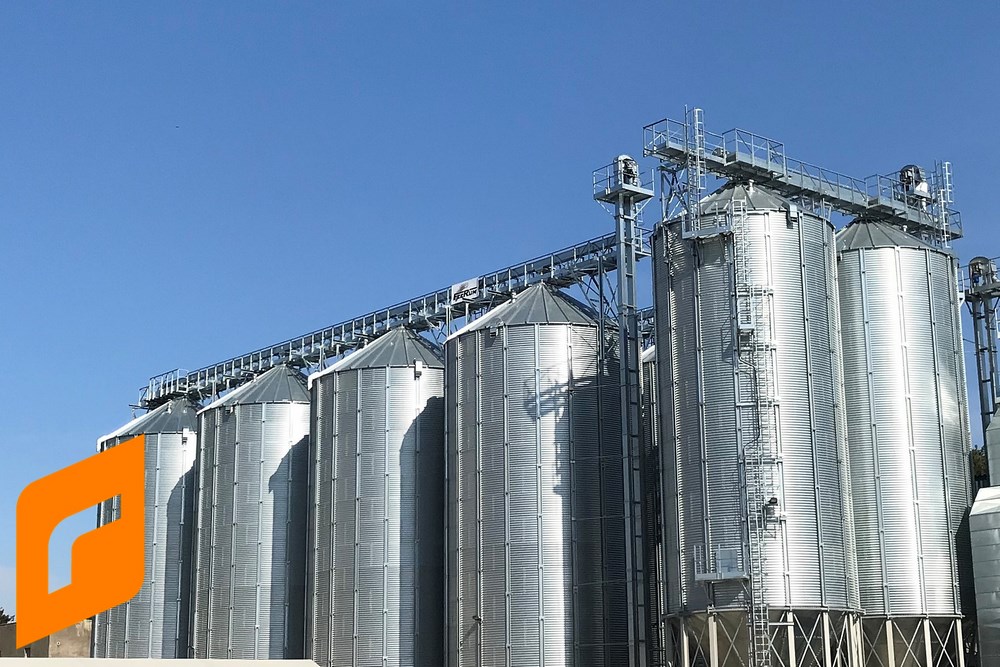 The facility in Bledzew will accommodate over 9,000 tons of grain. FEERUM was responsible for earthworks, foundation works and implementation of the entire drying and storage complex. The technological line used in the future will be combined with a feed mixer.
FEERUM completed the last stage of the construction of a facility with a capacity of over 9,000 thousand tons of grain. The drying and storage complex includes 8 flat-bottomed silos – each with a capacity of 1 000 tons of grain, 2 funnel silos with a capacity of 600 tons (they act as buffers during drying), drum cleaner (with cleaning efficiency of 100 t / h of wheat), forwarding silo, shelter with a passable reception area. An important element of the facility is a dryer with a capacity of approx. 220 t / day (efficiency for corn drying) equipped with a dedusting system and an air recirculation system). The smooth work of the complex and the smooth acceptance of cereals enables a transport system with a capacity of 80 t / h, equipped, among others, with in bucket elevators with an optimized head shape and receiving redilters with inverters. Control of the entire facility has been fully computerized and secured by a control cabinet designed and made by FEERUM.
– It is worth emphasizing that we were in constant cooperation with FEERUM designers while designing the facility. All our wishes regarding the technological sequence were reflected in the finished project. The FEERUM Investment Implementation Department also supports us in fulfilling all the guidelines set by the building inspector – emphasizes Rafał Cieślak, the investor coordinator for the construction of the Bledzew facility.
– We completed the facility in Bledzew in the system of General Contractor. The assembly and start-up of the facility were preceded by design and ground-and-foundation works. The difficulty of this investment was the small scope of the available space in relation to the investor's assumptions and requirements. We started discussions about the investment with a meticulous measurement of the area, so that the presented offer fully corresponds to the needs of our client. This was achieved by using higher and narrower flat-bottomed silos (each with a capacity of 1000 tons). We have also reduced the width of the shed without reducing the functionality. Thanks to these solutions, we have kept the right dimensions for all roads and overrun arches for large cars – says Marcin Kijanka, regional sales manager FEERUM S.A.

The facility is ready to work for harvest. In the last two years, FEERUM has completed over 80 investments with a total tonnage exceeding 200,000. tone.