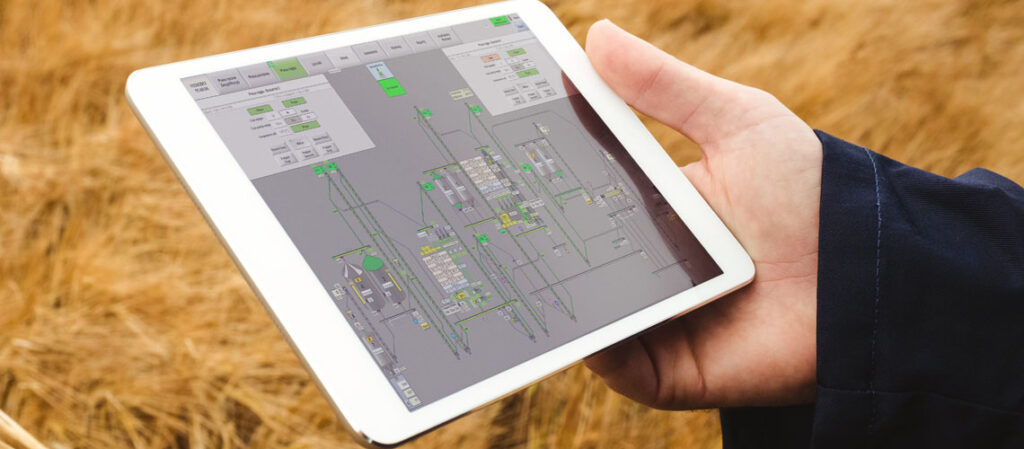 In the FEERUM drying and storage units, we offer intelligent, fully automatic control of a multi-stage process of grain collection, cleaning, drying and storage.

The system constantly monitors the properties of the stored grain and its flow, so it not only informs you about the appearance of any irregularities, but also at the same time adjusts the work parameters of individual elements of the unit so as to avoid breakdowns, prevent the grain from overheating or stopping the entire process. Supervision of the operation of the drying and storage facility can be carried out by only one operator. The entire work flow of the system can be monitored remotely with use of a computer or a smart phone.
Online service
We are responsible for the design, construction from scratch and commissioning of the drying and storage unit, and above all we take care of it all the time, also after the warranty period. In case of any problem an online monitoring system, allows our technicians to remotely diagnose the situation and help in solving a possible problem
We share our knowledge
We conduct training for operators of our units before they are put into use and, if necessary, during many years of their service. The developed solutions are the work of our automation engineers and electricians. They are always ready to make modifications in the system according to the individual needs of the client.
We are the leader of innovation
In cooperation with leading research centers, we constantly improve our products. We design, test and implement unique, innovative and patent protected solutions. We use our own Research and Development Center – all products are tested extensively here before they can be found in the offer addressed to our clients.
Reliable electric
In the FEERUM control cabinets, we use high-quality components from Eaton Electric. All devices are protected by properly selected equipment that prevents overloads and short-circuits.
Temperature monitoring
In order to increase the safety of stored grain, in the FEERUM silos we use temperature monitoring based on Dallas sensors. The number of sensors is selected depending on the diameter of the silo. The readout from certified probes is transferred to the object control application, which allows for the automatic start of grain ventilation in the silo. Indications from probes can also be archived.