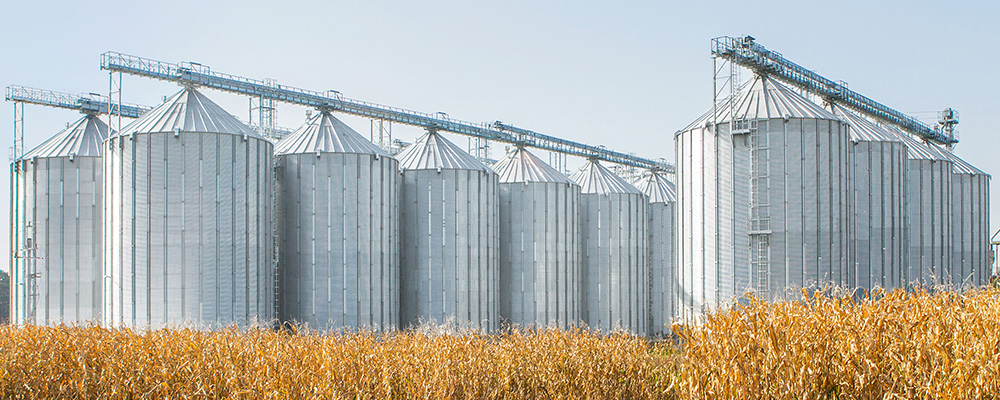 Ponad 26 700 m³ ziarna w jednym zbiorniku
Over 26 700 m³ of grain in one tank
FEERUM flat-bottomed silos are made of galvanized corrugated sheets with Z450 coating (on customer's request, the silo can be made of Z600 coated sheet with Galfan or Magnelis coating) with a diameter of 3.8 to 33.4 m. They can be built individually or in silo batteries, creating a drying- storage base.
| | | | |
| --- | --- | --- | --- |
| | Designation – thickness of the coating | Minimum total coating weight, both surfaces (g/m²) | Approximate value of the coating thickness (typically μm) |
| Standard | Z450 | 450 | 32 |
| Opcja | Z275 | 275 | 20 |
| Opcja | Z600 | 600 | 42 |
As the first on the market, we have introduced roofs with an inclination angle of up to 34˚. Thanks to this, we have increased the capacity of a single tank, but most of all we have avoided snow depositing and dangerous icing in the winter. At the customer's special request, the roof can be covered with polyester paint in any color, which additionally protects the roof against heating from the sun's rays.
In flat-bottomed silos we use, among others radar filling sensors, which continuously monitor the filling of the silo, temperature probes with the measurement system, to constantly observe the condition of the stored grain or the screw conveyor, which is used to unload bulk material left after the gravitational emptying of the silo. We have also patented a special spreader that reduces the speed of the grain's flight and prevents its damage when colliding with the hard surface of the silo floor. In silos, we can also use a side discharge, which allows the gravity-free unloading of a flat-bottomed silo directly to the mean of transportation without the need for additional transport devices. This significantly reduces the cost of electricity, positively affects grain quality and speeds up the unloading time of the silo.
Standard silo equipment
Silo roof
Roof vents
Roof hatch
Side hatch
Supporting columns of the silo
Side sheathing of the silo
A set of connectors
Set of anchors fixing the silo to the ground
Additional silo equipment
Maximum filling sensor
Radar sensors
Roof electric ventilation
Gravity ventilation
External ladder with hoops
Rest platforms
Gallery with supports for the transport
Roof stairs
Temperature probe with a measuring system
Grain spreader
Silo ventilation system
Lower fans for ventilation of grain – fixed or passable
Grain cooler
Screw conveyor
Electric, pneumatic or manual under-silo valves – main and auxiliary
Percentage selector
Metalwork
3D obiect animation