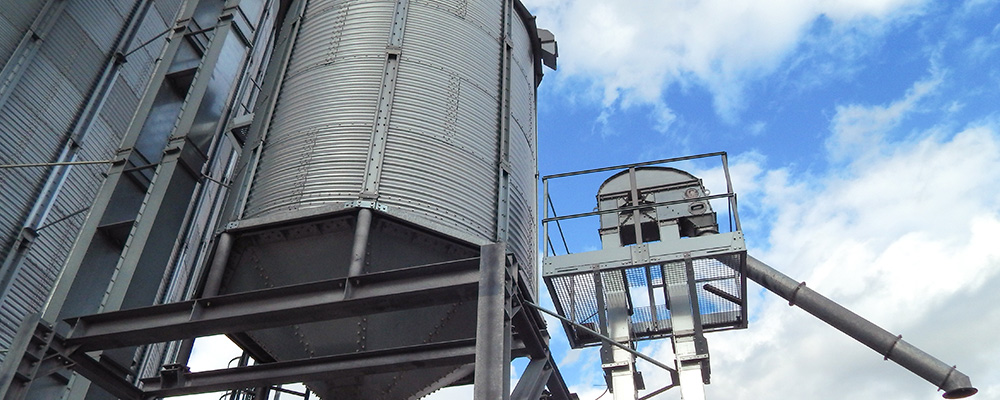 FEERUM bucket elevators – distinguishing features
Single or double (symmetrical) drive for high lifts. The advantage of the double-sided drive is the even load of the device and the convenience of servicing
FEERUM direct clutch-less drive ensuring reliable operation of lifts
The gearmotor with a helical-bevel gear is fixed by means of a reaction arm
Reinforced roller bearing in the drive station
A mechanical brake that prevents the belt with full scoops from backing up
Optimized head shape for better grain handling
Safety system in standard: speed sensor, slip and belt breaks
Intelligent system of horizontal and vertical transport of grain – what is it about?
The system optimizes the speed of the devices to the transported material as well as its density. The optimal speed of transporting devices is obtained using a frequency converter. The optimal efficiency is obtained by measuring the current and regulation of the on the device in the technological process.


Application
Bucket elevators are designed for vertical transport of grains of cereals, loose materials, fine and light grains, and in pieces, from a lower level to a higher one. Bucket elevators are used in the transport of grain in drying and storage facilities, when loading halls and flat warehouses, as well as when collecting grain from reception hoppers.
The most important features of vertical grain transport
Capacity from 30 to 300 t / h
Equipped with a four- or five- layer transport belt and pressed buckets
Safety system: speed sensor, slip and belt breaks as standard
Self-supporting design of the lift, requires only lateral tie
Wear-resistant material used in places prone to abrasion, increases the durability of the device and reduces damage to the transported grain
Made of galvanized sheet (2-3 mm)
Inspection window in the drive station
Silent operation of the device, only the noise of the scattered grain is heard
Additional equipment for bucket elevator:
Belt convergence sensor
Service platform
External communication (ladders and landings)
Lateral emergency outlet