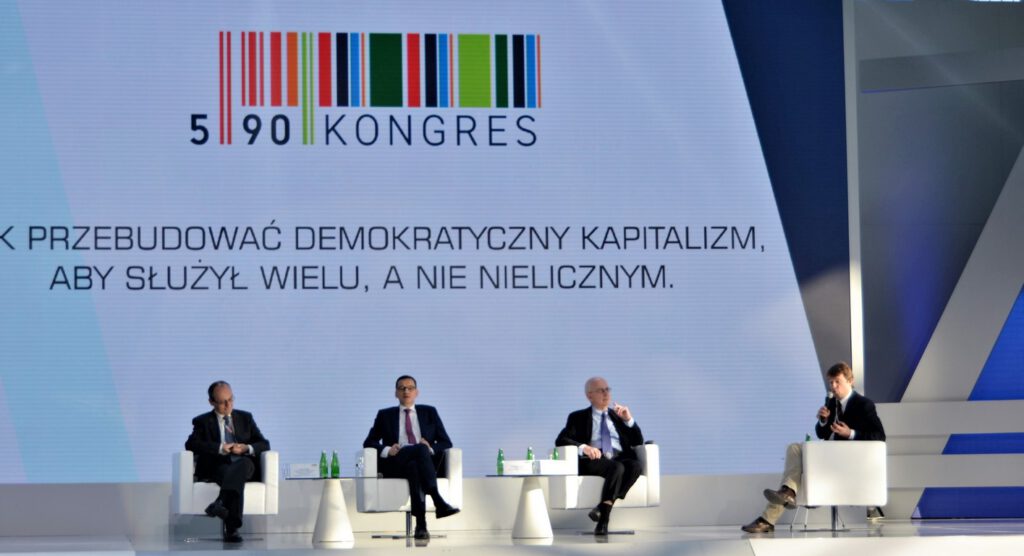 The exchange of ideas and experiences of the representatives of environments that have an impact on the development of the economy and entrepreneurship – this is the main goal of the 590th Congress, which was also attended by representatives of FEERUM. Much attention has been devoted to the opportunities associated with investing by Polish entrepreneurs in Africa.

Building a strong, innovative economy based on Polish potential – Prime Minister Beata Szydło described such a priority task of her government during the inauguration of Congress 590. Numerous government representatives, including Mateusz Morawiecki, Piotr Gliński and Jarosław Gowin, discussed with representatives of companies and State Treasury companies what the state can do for all entrepreneurs, so that they could make the best use of their potential, energy and creativity in Poland.

The President of the Republic of Poland, Andrzej Duda, the Honorary Patron of the Congress, devoted a lot of place to the role of government and central administration in creating the best conditions for the development of Polish business in its inaugural speech;

– Personally, as President, I try to support Polish business wherever I can. All of you know about this – I hope that here are, in this room, representatives of companies who were with me even in Africa, in Ethiopia, where we talked about development opportunities. I am glad that in this room there are certainly those who are already conducting their investments on this continent, which is extremely perspective and which, of course, has its specificity, but on which growing today, growing Polish companies can do good business – said Andrzej Duda, president of the Republic of Poland.

In May this year, representatives of FEERUM participated in the abovementioned economic mission in Ethiopia, organized under the patronage of the President of the Republic of Poland Andrzej Duda. The company took part in similar missions in Rwanda, Egypt, Zambia, Algeria, Senegal and Angola. During the 590 Congress she was able to share her experiences with the participants of the panel "Africa – a chance or a challenge for Polish exporters and investors?"

– Africa is both an opportunity and a challenge for Polish investors – says Daniel Janusz, president of the board of FEERUM S.A. – We are currently conducting a series of activities in Poland and Africa, preparing to implement a contract for the construction of five grain silos and storage facilities on the territory of the United Republic of Tanzania, and revitalization of existing storage facilities with a total value of USD 33.1 million. We hope that the intergovernmental ratification of this agreement will take place this year, which will allow us to significantly accelerate the work – expect the president of FEERUM.

Panel participants agreed that Africa is a continent that offers gigantic development opportunities. However, it requires patience, knowledge, experience and government support.

The second largest continent on earth today is inhabited by one billion two hundred million people. Despite the climatic conditions that allow crops to be harvested from two to three times a year, Africa is a food importer.

– Due to the lack of a suitable drying and storage base, on average in Africa every year about 40 percent of the harvest is wasted. We want to act responsibly on this continent to implement the right to proper food, while ensuring the achievement of adequate income for African agriculture – explains Dawid Pokrywka, director of FEERUM export.

In Tanzania, according to the agreement, FEERUM will build or revitalize a total of five drying and storage complexes in which 190,000 m3 of grain can be stored. The investment will be entirely financed from a loan granted by the Polish government to the government of the United Republic of Tanzania.